Château Simone Rosé 2018
From the very heart of Provence comes this very respected winery "Chateau Simone". Perhaps the most famous Southern French wine, or as it is known in the business: The wine of the Sommeliers! Located in the minuscule appellation of Palette, around the beautiful village of Aix-en-Provence.
Those are serious wines, meant to age in the cellars, including the Rosé! It is not a little, light, fresh Rosé to be drunk with whatever seafood and garlic dish comes your way. This wine is perhaps one of the few Rosés known to benefit from aging. Mostly Grenache and Mourvèdre. from Palette near Aix- en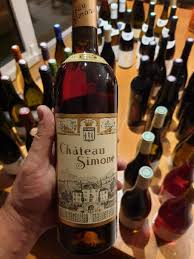 -Provence, a marvel of a deep dark pink rose from the South of France, utterly delicious, rich in colour, darkly fruity with flavours of summer fruits and florals. If you find it please try it, you won't regret it.
The white is delicious as well.'Deep, vivid orange-pink. Pungent red berry, blood orange and succulent herb aromas are complicated by smoky minerals and dried flowers. Sappy and concentrated on the palate, offering bitter cherry and raspberry flavors braced by a spine of juicy acidity. Shows a suave blend of power and finesse and finishes long and stony, with a faint impression of chewy tannins.
Josh Raynolds Vinous on the 2012⁣ Château Simone is one of only a handful of rosé wines that feature in Neil Beckett's book '1001 wines you must try before you die' and for good reason. Anyone who thinks rosé is not a serious wine category needs to try this. Deep, vivid orange-pink. Pungent red berry, blood orange and succulent herb aromas are complicated by smoky minerals and dried flowers. Sappy and concentrated on the palate, offering bitter cherry and raspberry flavors braced by a spine of juicy acidity. Shows a suave blend of power and finesse and finishes long and stony, with a faint impression of chewy tannins.🍇Grenache / Mourvèdre / Cinsault / Syrah / Castet / Manosquin / Carignan / Muscat Noir / Muscat Blanc⁣⁣