Château Mouton Rothschild 
Château Mouton Rothschild has its vineyards on the slopes leading down to the Gironde Estuary, in the Bordeaux  region, mainly producing grapes of the Cabernet Sauvignon variety. Today, Château Mouton Rothschild has 222 acres (90 ha) of grape vines made up of Cabernet Sauvignon (81%), Merlot (15%), Cabernet Franc (3%) and Petit Verdot (1%). Their wine is fermented in oak vats (they are one of the last châteaux in the Médoc to use them) and then matured in new oak casks.
  THE HIGH CLASS WINE WITH A HUGE FINISH
It is also frequently confused with the widely distributed generic Bordeaux Mouton Cadet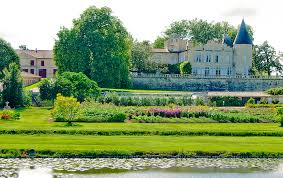 .Bordeaux Wine Official Classification of 1855 was based entirely on recent market prices for a vineyard's wines, with one exception: Château Mouton Rothschild. Despite the market prices for their vineyard's wines equalling that of Château Lafitte Rothschid, Château Mouton Rothschild was excluded from First Great Growth status, an act that Baron Philipe de Rothschild referred to as "the monstrous injustice". It is widely believed that the exception was made because the vineyard had recently been purchased by an Englishman and was no longer in French ownership. The 2003 vintage marks the 150th anniversary of Mouton's entry into the family to which it has since belonged without interruption for five generations. 
Baroness Philippine de Rothschild decided to depart from tradition by devoting the entire label to Baron Nathaniel de Rothschild (1812-1870), her direct ancestor from the English branch of the family who acquired the Mouton estate on 11 May 1853.Baron Nathaniel is depicted on the label in a period photograph. The background shows part of the deed of sale.
This document, carefully preserved in the Mouton archives, marks the beginning of a long love story between the Rothschilds and the great wines of Bordeaux.Backward, powerful, and extremely tannic, the dense purple-colored 2003 Mouton-Rothschild improves dramatically with aeration. With full-bodied, meaty, powerful, dry flavors as well as a huge finish, this high class wine should be at its finest between 2012-2040+. During its sojourn in barrel, it reminded me of a hypothetical blend of the 1982 and 1986 Moutons, but since bottling, it appears different, and even more tannic than those two vintages.' Wine Advocate 95