The Best Tapeo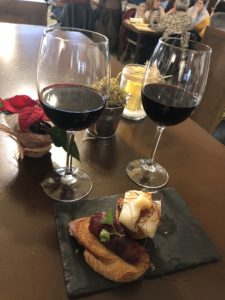 As commonly cited explanation is that an item, be it bread or a flat card, etc., would often be placed on top of a drink to protect it from fruit flies; at some point it became a habit to top this "cover" with a snack.
It is also commonly said that since one would be standing while eating a tapa in traditional Spanish bars, they would need to place their plates on top of their drinks to eat, making it a top.
Others believe the tapas tradition began when king Alfonso X of Castile recovered from an illness by drinking wine with small dishes between meals. After regaining his health, the king ordered that taverns would not be allowed to serve wine to customers unless it was accompanied by a small snack or "tapa".
Another popular explanation says that King Alfonso XIII stopped by a famous tavern in Cádiz (Andalusian city) where he ordered a cup of wine. The waiter covered the glass with a slice of cured ham before offering it to the king, to protect the wine from the beach sand, as Cádiz is a windy place. The king, after drinking the wine and eating the tapa, ordered another wine "with the cover".
         THE ORIGINE AND THE LEGEND ABOUT THE BEST TAPEO
A final possibility surrounds Felipe III, who passed a law in an effort to curb rowdy drunken behavior, particularly among soldiers and sailors. The law stated that when one purchased a drink, the bartender was to place over the mouth of the mug or goblet a cover or lid containing some small quantity of food as part of the purchase of the beverage, the hope being that the food would slow the effects of the alcohol, and fill the stomach to prevent over-imbibing.
In some bars and restaurants in Spain and across the globe, tapas have evolved into a more sophisticated cuisine. Tapas can be combined to make a full meal. In some Central American countries, such snacks are known as bocas. In parts of Mexico, similar dishes are called botanas.
Tapas have evolved through Spanish history by incorporating new ingredients and influences. Most of the Iberian Peninsula was invaded by the Romans, who introduced more extensive cultivation of the olive following their invasion of Spain in 212 B.C. and irrigation methods. The discovery of the New World brought the introduction of tomatoes, sweet and chili peppers, maize (corn), and potatoes, which were readily accepted and easily grown in Spain's microclimates.