SMART TALKS ONLINE emerge from the necessity to create an activity, for people who like sharing experiences, building new ambience and improving skills in the art of speaking.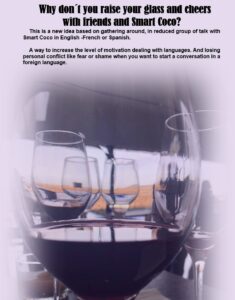 SMART TALKS ONLINE .
smartcoco.online suggest methods of grouped motivations to learn how to learn Languages, creating the appropriate condition where you can break all the frontiers that hamper from growing as a person. Why don´t we raise our glass and cheers with friends online?
This is a new idea based on gathering around, in reduced group of talk with SmartCoco, in English-French-Spanish. A way to increase the level of motivation, dealing with languages. And loosing personal conflict like fears or shames when you want to start a conversation in a foreign language.
Remember, you are a great candidate. If you were not, you would not have been invited to participate in this culture and Civilization activity. So let´s take a deep breath, relax, and above all let´s have fun for a while with friends around a glass.
 3 REASONS TO JOIN US WHENEVER YOU ARE READY:
 For people who like sharing experience
Building new ambience
Improving skills in the art of speaking